We had four people from Nagaland (NE India) to lunch on Sunday. Two of the women had visited Glasgow in 1988 for the Baptist World Youth Conference, and had stayed with one of our friends, Marjorie (who celebrated her 89th birthday last Thursday).
They have kept in touch ever since, and this year they, along with their brother Nungsang and another friend, are visiting the Baptist World Alliance conference in Birmingham. So they spent a few days in Glasgow with Marjorie, and we hosted them for lunch, along with other people from housegroup.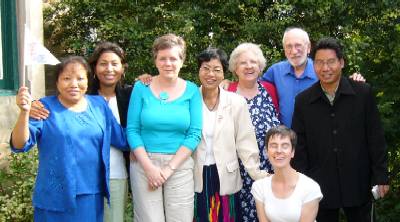 Nagaland is in the far NE of India, with China to the north, Burma to the southeast, Bangladesh to the southwest, and Assam to the northwest. It is a small state with only 1.2 million people, who are predominantly Baptist! Nungsang is a Baptist pastor, working as part of the Naga community in Calcutta/Kolkata, and the three women work for the Nagaland government and are active participants in their local church life.
The Nagas were very strongly evangelical, which I must admit I found uncomfortable (I did a recent online quiz to find that I was an "Emerging, post-modern" Christian), but it was good to be exposed to a different culture, there was certainly something to learn about enthusiasm and strong faith.
So, very rewarding to discover more about somewhere so different. Without Marjorie's friends I certainly would never have heard of Nagaland.