One of my colleagues spotted this sign outside a hospital in Ghana recently.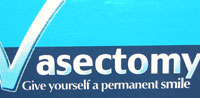 I don't remember a permananent smile being the predominant side-effect of my snip, and I'm not sure it would pass UK Trade Description legislation, but maybe the NHS should try some innovative slogans.
There will be further points awarded for the any ambitious advertising you can find.