We've had a cracking weekend in Glasgow – both Saturday and Sunday saw unbroken blue skies.
On Saturday, we went down the Clyde Valley to get a few plants in the garden centres (tomatoes, peppers etc), then we had a great circular 7.5 mile walk starting and finishing at New Lanark. Most of the walk was in t-shirts, followed by ice cream at the end.
On Sunday we spent a bit of time in the garden. I'm experimenting with a new technique called Square Foot Gardening, that splits the vegetable garden into 1 square foot sections, to enable better planning, succession planting, plant spacing and usability of the veg plot. I've started with some broad beans, in four 4×4 squares.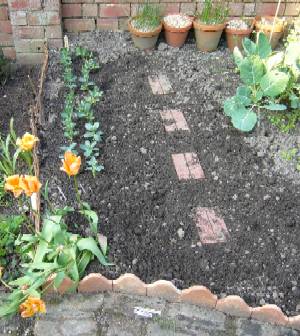 Only another 75 squares to go! I'm hoping that Square Foot Gardening will help me to be better organised, and to have less wasted space in our limited veg plot. I'll keep making posts here through the summer.