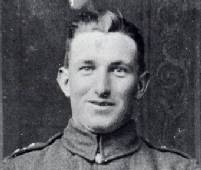 Remembrance Sunday is a good day to write this post, inspired by Julia's post earlier.
A few weeks ago, my brother recently received a package from the Royal Irish Fusiliers Museum in Armagh, containing copies of a number of letters written to my great-grandmother, Mary Anne Adams during the Great War. My Dad had donated them to the museum in the 1980s.
We had not seen quite a few of these letters before, and they have helped us fill in some blanks in my grandfather's experiences of the War, training in Ireland and England, fighting near the Somme in France and Ypres in Belgium, getting wounded (twice – 1916 and 1918) and even working on a farm near Rouen while recuperating from illness.
The letters tell nothing of the fighting, but do indicate what it was like for young men to be away from home for over four years, and illustrated how letters from home were a lifeline. The modern equivalents (email, text, e-blueys) are probably equally important to today's front-line soldiers.
We've been able to update the site with the new letters, and also use other documentary sources to give an idea of where the events happened (reading beyond the "somewhere in France"). Read the whole story on the updated Letters from the Front website.