project home | project summary | class overview | screen-shots | GPS resources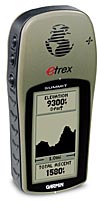 jGPS is a Java based application which allows users with a commercial GPS receiver connected to the serial port of a PC to:
determine his or her current position,
present the position information in text format (latitude/longitude, British Grid co-ordinates);
view the location on a scalable, orientable map;
share location information with other users collaborating over a network;
visualise all users' positions in 3D;
use positional (3D) sound to localise other users in a non-visual environment;
display maps downloaded from www.multimap.com, controlled by the user's location.
The application was written as part of my work towards an M.Sc. in Information Technology at the University of Glasgow, and was submitted in September 2001.
In addition to the core Java J2SE1.3 classes, programming for this project used the following: